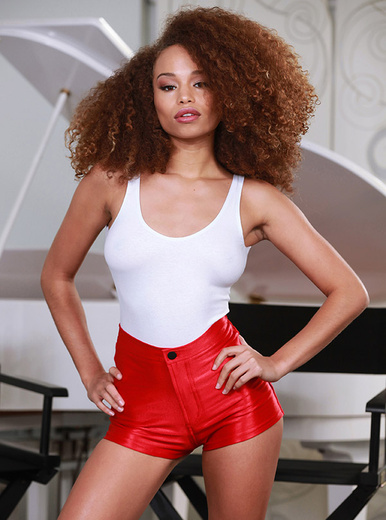 Cecilia Lion Pornstar Biography
Thanks Brazzers.com
There aren't too many pornstars who radiate good vibes like Cecilia Lion. Always wearing a big smile and full of enthusiasm, Cecilia Lion loves what she does, and who get gets to do!
An ebony cutie with an afro and bubble butt, she's thick in all the right places. Self-labeling herself as a hippy, Cecilia is all about peace, love, and hardcore sex!
Here she is wearing a pair of tight red shorts and a white vest. I think you can just about she her nipples though her vest.
I don't think she is wearing any panties under those very tight shorts.  If she dares to bend over, I'm sure her arse crack would be on show.